DOWN AT THE INFERNO
Come join your fellow sinners 
at the club that gives Hell a good name! 
        Inspired by Dante's Divine Comedy, Rick's new sung-through musical DOWN AT THE INFERNO turns a great poet's epic of the afterlife into a wild night out at the hottest club in town. Set smack in the present, the show embroils two modern lovers in a desperate quest for paradise through a labyrinth of 21st-century temptation and a grand tour of who's who in Hell today.
0:00/4:12

0:00/2:41

0:00/3:52

0:00/3:45

0:00/2:36

0:00/2:41
"NEW AGE"—The anthem of the Inferno's happy heathens. Who needs that old-time religion?!
For more Inferno music, check out this youtube playlist.
Inferno illustrations by Gustave Doré (1857)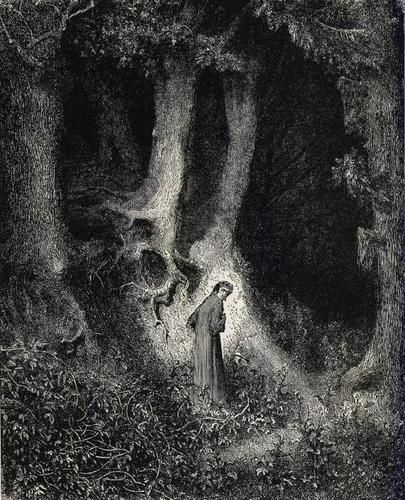 As the curtain rises, our hero Gus, a lost soul in today's media wilderness, gets caught up in the crowd headed for the Club Inferno. He strays into a humble dive called the Paradise Café and falls in love with its beautiful bartender Jackie. But Gus has personal demons to wrestle and can't resist the Inferno's sensational media hype, so he leaves her to explore its nine circles of pleasure. 
With the ghost of Dante as his guide, Gus descends into a contemporary vision of Hell as eternal entertainment, where the star of the show is a wickedly sexy Jackie, the dark double of his Paradise sweetheart. 
Can Gus's love for the "good" Jackie win the hard-bitten heart of the infernal one? Can he solve the mystery of her double nature? Can he save her from the clutches of the Inferno's diabolical impresario and escape with her back to the Paradise? Will their love survive the perils of the club so "in" there's no way out? 
Get in on Dante's tour of who's who in Hell today— and get swept up by a love story that takes you all the way to heaven.
For more production info, the complete recorded score and/or the script, contact Mind's Ear Music.